Pueblo Bonito Golf & Spa Resorts is allowing guests to get jumps on the holiday, with a special offer that lets them ave more, the more they buy, or "save more and stay longer in paradise." With no blackout dates and visits good from to Jan. 1, 2025, this a great way to experience the best of Mexico.
"This is our best sale of the year and a great opportunity to book at favorable rates with exceptional perks," said Enrique Gandara, VP of Sales and Marketing, Pueblo Bonito Golf & Spa Resorts.
Eight Pueblo Bonito properties are participating in the Black Friday Sale.  In Cabo San Lucas, the adults-only Pueblo Bonito Pacifica Golf & Spa Resort is the ideal setting for a romantic getaway, while Pueblo Bonito Sunset Beach Golf & Spa Resort, with its large, all ocean-view suites, is perfect for families. In addition, within the Quivira Los Cabos community, stunning three-bedroom Montecristo Villas are perfect for groups of up to 8. Pueblo Bonito Rosé Resort & Spa and Pueblo Bonito Los Cabos, both each on El Médano Beach, are perfect for vacationers looking to be in the middle of all the Cabo action.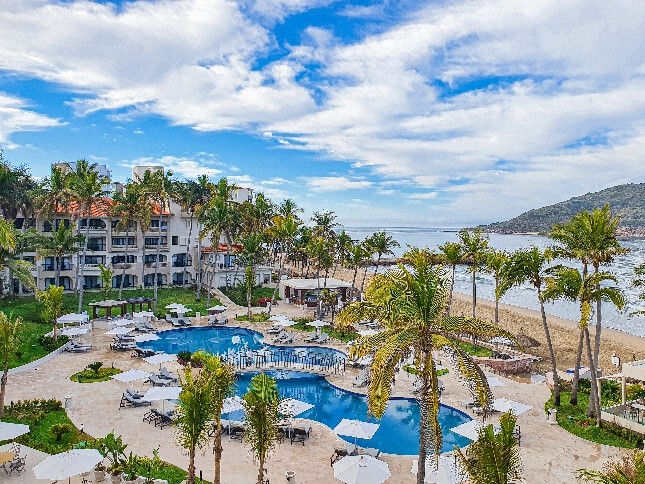 Pueblo Bonito Mazatlan
In Mazatlán, the Emerald Estate Villas offer a residential feel, while the elegant Pueblo Bonito Emerald Bay Resort & Spa overlooks the Pacific Ocean and has a private beach. The Pueblo Bonito Mazatlán is in the famous Golden Zone. The three resorts are great for family vacations and romantic getaways.
The Black Friday savings are progressive, with rates up to 50% off, plus $450 in spa, golf, and resort credits.
Here's how it works:
Reservations of three (3) nights receive $225 in credit ($75 spa credit, $75 golf credit, $75 resort credit).
Reservations of four to six (4-6) nights receive $300 in credit ($100 spa credit, $100 golf credit, $100 resort credit).
Reservations of seven + (7) nights receive $450 in credit ($150 spa credit, $150 golf credit, $150 resort credit).
Resort credits may be applied to room category upgrades, subject to availability.
In both Los Cabos and Mazatlán the spa credit can be applied at Armonia Spa, a sanctuary of wellness and tranquility that offers rejuvenating treatments and exclusive organic products designed to relax, unwind, and revive.
In Los Cabos, the golf credit can be applied at Quivira Golf Club, the outstanding Jack Nicklaus Signature course at Land's End that meanders through huge windswept dunes and along sheer granite cliffs high above the surging sea.
#pueblobonitoresorts #quiviragolfclub #loscabos #mazatlan #luxurymexicoresorts #pacificocean #golf #travel #luxurytravel #holidaytravel #wintertravel #spikeongolfandtravel
Feature Photo: Pueblo Bonito Los Cabos