As he guided his golf car toward the front entrance of The Tesoro Club, Marco Schlenz reflected back on the past 20 months.
"Craziness.''
Schlenz, the Club's hard-charging general manager, basically thought he had seen it all during his career in the private clubs world. The 1,500-acre Tesoro Club in Port St. Lucie, FL., however, was a different animal. Heck, had it been an animal, its previous two owners – Bobby Ginn and Glenn Straub – each could have been charged with neglect and cruelty.
Conversely, The Tesoro Club's new ownership group, which in 2020 bought the Club, its two golf courses, 100,000 square-foot clubhouse, Swim & Racquet Club, along with approximately 900 home sites, from Straub for a reported $40 million, should be lauded for resurrecting a property that was virtually abandoned. Straub, whose properties include Palm Beach Polo & Country Club in Wellington, FL., in 2009 acquired The Tesoro Club out of bankruptcy of Ginn-LA for $10.9 million.
Straub's handling of The Tesoro Club further solidified his reputation for being among South Florida's more controversial billionaires. But this isn't a story about ruthlessness, rather one of reawakening.
"I'm one of those guys who likes a challenge,'' said Schlenz, who for five years was GM at the Dye Preserve Golf Club in Jupiter, FL. He also was director of golf operations at the legendary St. Andrews Country Club in Boca Raton.
A graduate of the Culinary Institute of America, Schlenz spent seven years at the fabled Sundyhouse in Delray Beach, FL, before moving to The Tesoro Club.
"For me, this represents a huge challenge,'' Schlenz said "But the plane is starting get off the tarmac a little bit.''
Quite an achievement, considering that less than two years ago, that "tarmac'' couldn't even be seen. The Arnold Palmer-designed course and the Tom Watson-designed course each were overgrown to the points of being nearly unrecognizable as golf courses; some of the bridges that connect the wetlands preserve areas with the fairways and greens were on the verge of collapse; and the massive Mediterranean-style clubhouse – complete with 63 bathrooms – was uninhabitable.
"A horrific mess,'' Schlenz said.
Now, thanks to the Schlenz, Director of Golf Matt Doyle and an ownership team that includes New York investors, Tim Jones and Rod O'Connor, and South Florida real estate developer and former New York Giants football star Tucker Frederickson, the "mess'' is becoming a triumph. The Tesoro Club – overlooking the North Fork of the St. Lucie River – is set to take its place among the top private golf communities in South Florida.
For example, the Palmer Course (7,333 yards, par 72 from the back tees) is an outstanding risk-reward layout, with as many as eight sets of tees. On the scorecard, each tee box is listed with a driver-distance suggestion based on how far each player can hit his or her tee shot.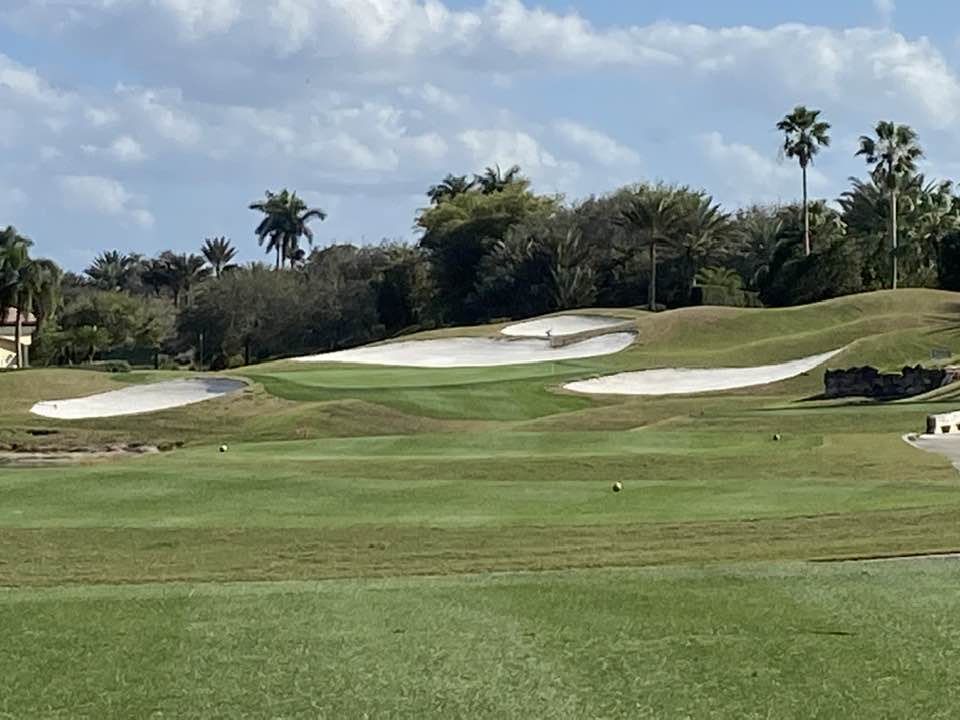 The Watson course (7,019 yards, par 72), a links-style layout that plays through a forest preserve, is scheduled to re-open in 2024.
A golf grill restaurant was recently opened in the main clubhouse, while at the Swim & Racquet Club, features a Floribbean-inspired menu and pizza oven. It also will soon have a seafood bar.
The two dining locations each fit the beliefs of Schlenz and Executive Chef Guy Rettig that golf communities are only as great as their food and beverage operations.
"Food and beverage is an equal part of the equation with golf, but there are the social aspects,'' Schlenz said. "People make decisions based on that. If I'm living in a community for the lifestyle, a large part of that lifestyle is that I don't want to have to leave that community.
"So, we want to exceed expectations on the culinary side – and on all sides. But certainly on the culinary side, because people have to eat. They don't have to play golf.''
The Club this past November began a membership drive that Schlenz said has accounted for 60 golf and social members, including some outside golf memberships. Major home builders, such as Toll Brothers and Lennar, are building in The Tesoro Club. Each home buyer is required to purchase at least a social membership.
"Everything here is new,'' Schlenz said. "Again, we're just getting off the tarmac.''
And ready to fly.
Feature Photo Courtesy of The Tesoro Club
#thetesoroclub #privategolfcommunities #arnoldpalmer #tomwatson #golfcourses #spikeongolfandtravel #golfnews #glennstraub #golflife #golfrealestate #portstlucie