Summer Eats means a buffet lof food and dining events in Palm Beach County, FL. Here are samplings of some of my favorite upcoming events.
Pistache (West Palm Beach)
The popular French Bistro on May 24 will celebrate its 15h anniversary by welcoming back the chefs who were instrumental in laying its culinary foundation. Joining Chef de Cuisine Mike Burgio for this one-night-only collaboration are Isaac Cerny, executive chef at Mariner Sands Country Club in Stuart, FL.,and Julien Gremaud, executive chef/owner of Avocado Grill, Avocado Cantina, and the coming-soon Pink Steak, each in Palm Beach County..
Summer Eats diners can select from an la carte menu where each chef creates dishes that reflect their respective years in the Pistache kitchen.

Here's a look:
Chef Julien Gremaud (PISTACHE 2008 – 2011):
Appetizer Yellowfin Tuna Carpaccio
Seared Foie Gras, Hazelnuts, Pomme Allumette, Sauce Asiatique
Entrée Lobster Risotto
Fennel Confit, Tarragon, Fava Beans

Chef Isaac Cerny (PISTACHE 2011 – 2021)::
Appetizer Blue Crab Mezzelune
Sweet Corn, Bell Pepper, Roasted Poblano, Lemon Gremolata
Entrée Lamb Provençal
Herb Crusted and Char-Grilled Lamb Loin, Braised Coco Beans, Confit Garlic, Marinated Tomato, Watercress, Mint Pesto
Chef Mike Burgio (2021 – Present):
Appetizer Crispy Pork Belly with Smoked Grits
Caramelized Fennel, Vanilla Poached Peach, Sauce Agrodolce
Entrée Cocoa Braised Short Rib
Chestnut Puree, Salsify, Summer Truffle
The regular dinner menu will be available in addition to the above a la carte specials. Music by DJ Adam Lipson.
Coolinary (Palm Beach Gardens, FL.)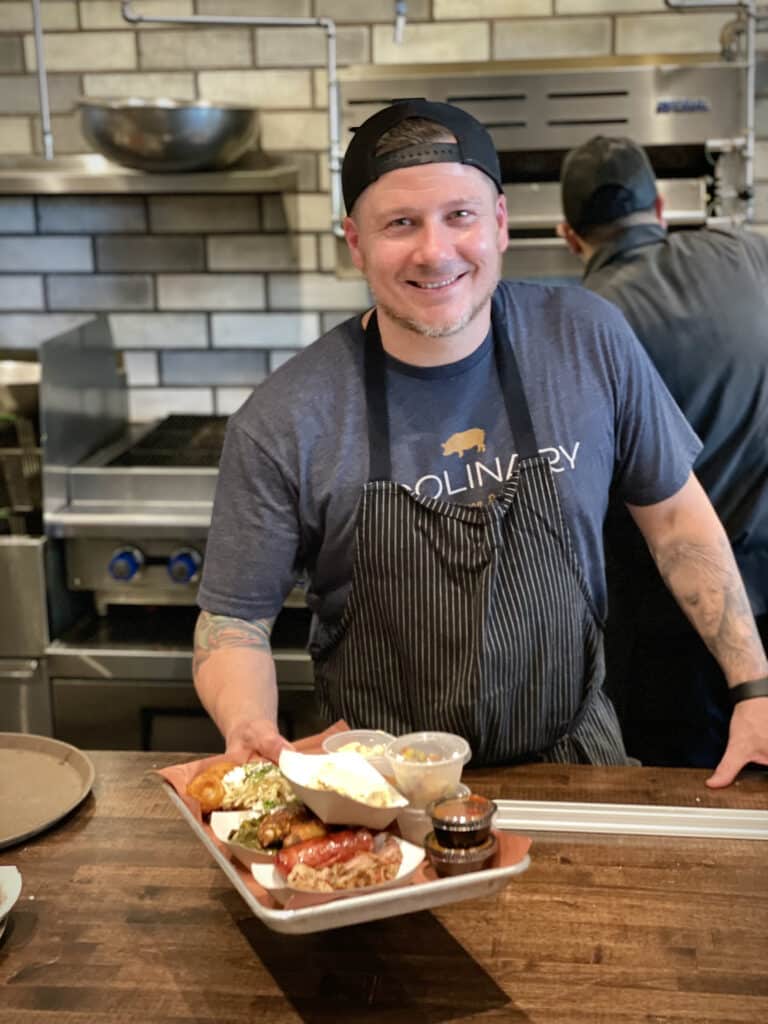 Tim Lipman (Brickhouse Public Relations)
Chef/owner Tim Lipman on May 28 will offer an a la carte menu of Memorial Day favorites and a summer-inspired cocktail,
The menu will include: Smoked Whole Chicken – Honey Mustard – feeds 4 to 5 Smoked Pork Spare Ribs – Sweet BBQ Sauce – feeds 4 to 5 Sweet Potato Salad – Mustard, Sour Cream, Celery Seed – feeds 8 to 10 Baked Mac & Cheese – Smoked Gouda, Pretzel Crumb – feeds 8 to 10 Lemon Kale Slaw – Golden Raisin, Sunflower Seed, Honey Dressing – feeds 8 to 10 Chocolate Peanut Butter Cup Brownie – Mini Chocolate Chips, Peanut Butter Glaze – feeds 8 to 10 Summer Sandîa Cocktail – Muddled Watermelon, Mezcal, Tequila, Apricot, Cane Sugar, Citrus – 2 servings per bottle
The deadline for placing online orders is May 23; orders are to be picked up May 27 between 11 am and 3 pm.
The Regional (West Palm Beach)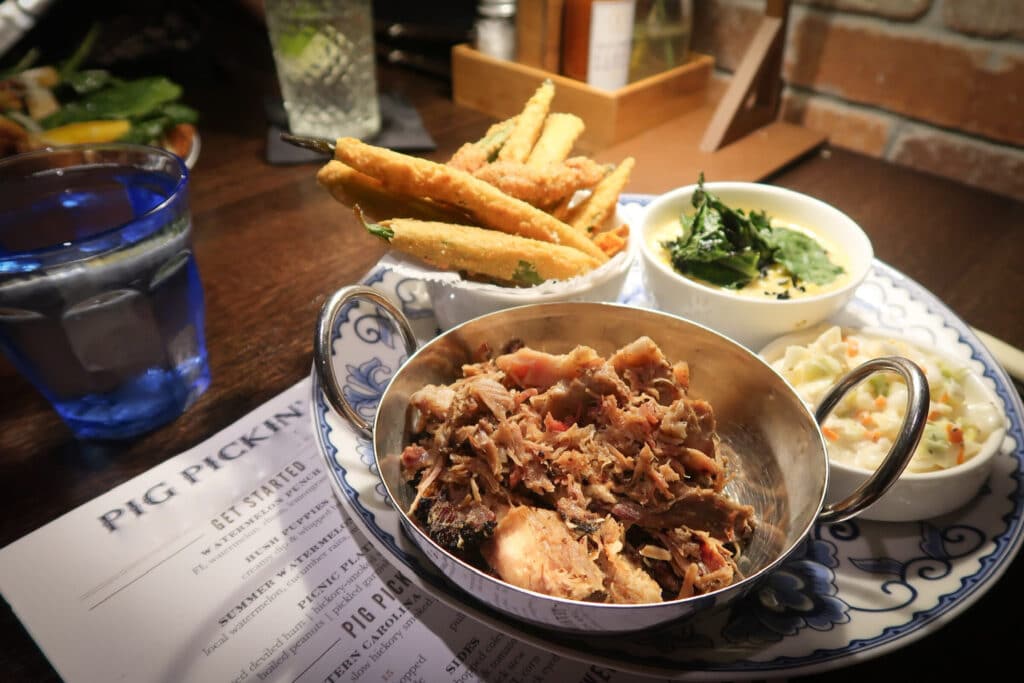 Pig Pickin' (InHouse Creative)
Chef Lindsay Autry shows off her Noth Carolina roots with the return of two summer traditions that exemplify seasonal gatherings with family and friends.
Chef Autry's Summer Eats BBQ-inspired event Pig Pickin' will return for three nights, with the first event on June 2.  The traditional pig pickin' menu will offer two options of her Eastern North Carolina style hickory-smoked pulled pork paired with classic Southern sides:
Sandwich – slow hickory-smoked pulled pork on toasted brioche bun, served with hand-chopped coleslaw and choice of one side.
Meat N' Three– slow hickory-smoked pulled pork, served with choice of three sides.
Sides: hand-chopped coleslaw; Brunswick stew; creamed summer corn; collard greens and black-eyed peas; fried okra.
A la carte specials to enhance the experience will also be offered, including Hush Puppies; Summer Peach Salad; Butter Lettuce Salad; and a picnic plate of :hickory-smoked sausage, pimento cheese, deviled eggs, boiled peanuts, pickled garnishes, and club crackers
June 16, Autry will serve up her version of Low Country Boil. The table-side, family-style meal features:
Key West Pink Shrimp, Florida clams, sweet summer corn, house smoked sausage, and tender potatoes, all simmered in an Old Bay broth, and served with drawn butter, classic cocktail sauce, and a bib of course!
 In addition, two Lowcountry ffavorites, She-Crab Soup and Fried Oysters will also be featured. To complete the Summer Easts experience, Chef Autry will offer a classic North Carolina dessert often served after Low Country Boil: Atlantic Beach Pie.
Pig Pickin' starts at at 5:30 pm on Friday, June 2, July 21, and Sept. 1,.
Low Country Boil starts at 5:30 pm on June 16 and August 18.
Garden District Taproom (West Palm Beach)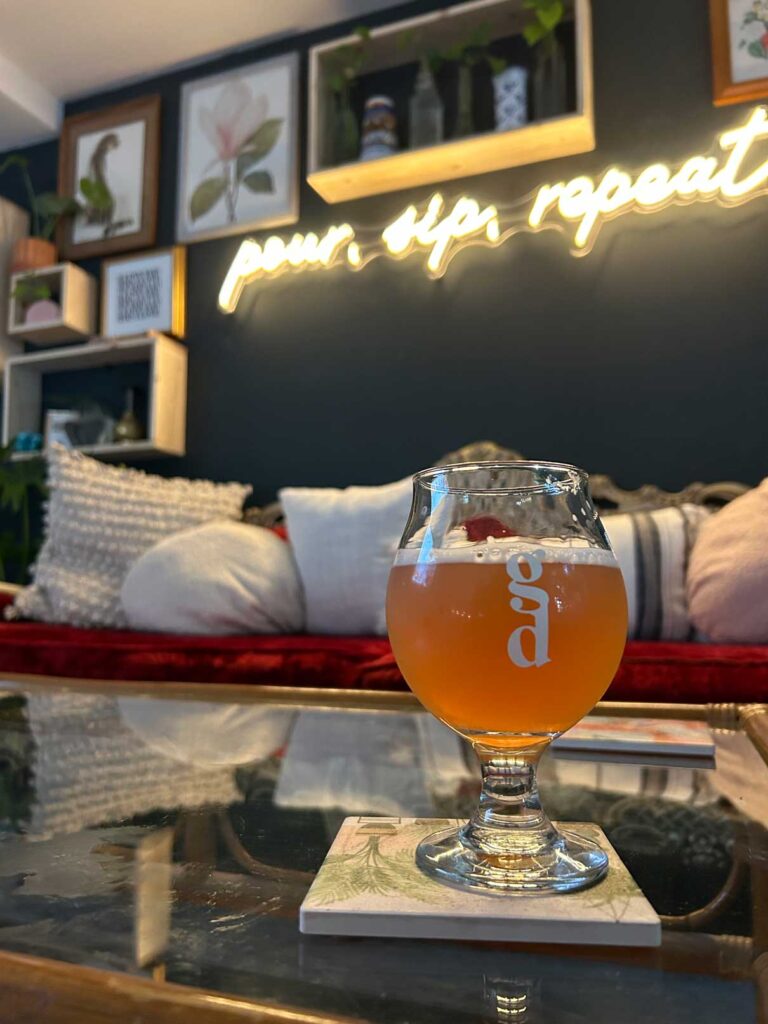 Courtesy of Garden District Taproom
Summer Eats needs beverages. West Palm Beach's first self-pour taproom, in collaboration with Miami-based Little Brewing Co., on May 27  to present the SummerTime Takeover event, including:.
Beer Tasting: Sample the finest brews from talented South Florida brewers, Miami's Little Brewing Co. and veteran-owned Savage Lyfe Beer Co.
Pop-Up Food: Indulge your taste buds with delectable bites from West Palm Beach's own Jamaican Soul 561 including chicken and waffles, buffalo chicken egg rolls, and more
Hot Sauce Sampling: Embark on a spicy journey with an exhilarating hot sauce tasting adventure courtesy of Antidote Sauce Co.
Giveaways: Win gift cards, swag from all of the different vendors, and more
Music: DJ Epik
Garden District Taproom offers the area's first and only self-pour beverage experience. Its 25-tap self-serve draft system gives guests the freedom to pour on their own and taste a variety of draft beverages by the ounce.
SummerTime Takeover goes from6 pm to 11 pm. Admission is free, but all guests must be of legal drinking age to enter.
Feature Photo: Chefs Julien Gremaud (top left); Isaac Cerny (lower left); Mike Burgio (right). Courtesy of Brickhouse Public Relations
#eatregional #coolinary #pistachefrenchbistro #spikeongolfandtravel #foodies #thepalmbeaches #gardendistricttaproom #memorialday #lowcountryboil #craftbeer