Panther National, the first new private golf club to open in Palm Beach County, FL., in two decades, officially opened today with co-designers Jack Nicklaus and Justin Thomas spearheading the event in Palm Beach Gardens, FL.
Panther National, a first-time collaboration between the Golden Bear and Thomas, measures as long as 8,000 yards and features steep elevation changes and dramatic characteristics unlike any other course in the state. The golf course – in western Palm Beach Gardens – accompanies Panther National's Signature Estate Homes and Custom Estate Homesites, delivering an elite, best-in-class experience to members and residents.
Thomas – a partner of Panther National – Xander Schauffele, Morgan Hoffmann, Erik van Rooyen, and Lexi Thompson each participated in an exhibition as brand ammassadors – along with Rickie Fowler.

"Panther National sits on the last parcel of premium, developable land in Palm Beach County, where we are proud to offer a visually stunning and environmentally sensitive golf course as the cornerstone of our modern, lifestyle community redefining luxury in the region," said Founder and President, Dominik Senn. "The opportunity to bring an unprecedented level of elegance to the game in an area where private golf options have been underserved for years is something in which we take great pride, and we look forward to providing current and prospective owners and members a distinctive experience both on and off the links."
Combining the best of Nicklaus's traditional design approach with the modern perspective, the intricacies of the course will challenge the world's best players through a variety of risk-reward shot options yet allow playability for members with large landing areas and receptive greens. Design components include double fairways, deep bunkers, and expansive sandy waste areas; downhill tee shots uncommon to South Florida; uphill and semi-blind approach shots.

"From the start, the vision was clear – to create a golf experience unlike any other found in South Florida," said Nicklaus, the legendary winner of 18 Major Championships. ."Every opportunity to design a golf course brings challenges, but in the case of Panther National, uniqueness triumphs. You won't find any golf course remotely close to it in South Florida."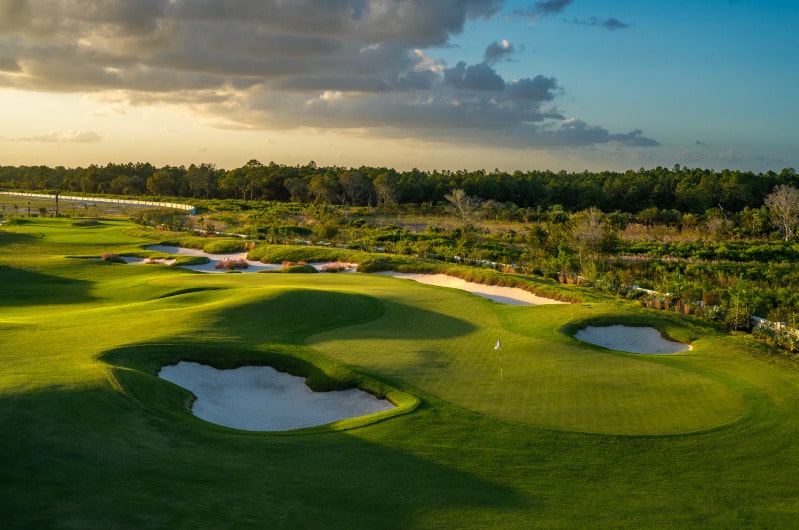 The course at Panther National will be complemented by world class training facilities featuring state-of-the-art ball tracing technology, PGA professionals to provide tailored instruction, an indoor simulator, putting room, and high-end fitness training equipment.
Flexible enough to accommodate golf's top professionals and club members, its practice area offers target greens constructed with Trinity Zoysia grass so the ball will react the same as when landing on the championship course's greens. The targets are sized appropriately for shot length, equal to a PGA Tour average shot for the specific distance. The short game area is also incredibly unique allowing golfers to train for all the greenside shots found at Panther National or at any course in the world. In addition, members can take advantage of Panther National's fitting facility with custom fitting, stocked premium clubs, and shafts from all major equipment manufacturers.

The facility also includes a nine-hole, par-3 practice course plus a short game area. Holes vary from 90 to 200 yards with approach shots similar to those players will encounter on the championship course and an island green that resembles the famous 17th hole at TPC Sawgrass. Panther National's putting course – dubbed "The Cub," and inspired by the Himalayas Putting Course at St. Andrews – sits on nearly one acre of land.

"Today will prove to be a pivotal and monumental moment in my professional career," said Thomas, a two-time PGA Champion. "Embarking on this journey with Jack, Dominik and their teams has been an unforgettable and invaluable experience. To see how a project comes to fruition, from the groundbreaking to the grand opening tee shot and all the site visits in between, this was such an inspirational endeavor that would not be possible without the hard-work and countless hours spent by all involved to make this dream a reality."

Panther National's residential offering includes 218 custom, modern estates combined with premium community amenities for an unparalleled lifestyle experience unlike anything else in the country. The private enclave is set on approximately 400 acres surrounded by the Panther National Wildlife Refuge, a 2,400-acre conservation area. Panther National's residences pair sleek, modern elegance with visionary, environmentally sensitive engineering for a sophisticated and effortless residential destination.
#panthernational #jacknicklaus #justinthomas #golfcoursedesign #plambeachcounty #palmbeachgardens #rickiefowler #lexithompson #privategolfclubs #dominiksenn #panthernationalwildliferefuge
Photography by Evan Schiller