Vodka's popularity in the United States can be traced back to the repeal of Prohibition and the purchase of a Connecticut-based distiller named Smirnoff in 1939. Today, Americans remain unquenchably fascinated by the colorless, odorless, and tasteless tipple renowned for its unflappable ability to stand alone and serve as the bedrock for such legends as the Cosmopolitan and Moscow Mule.
On Oct. 4 – National Vodka Day – fans of the apex spirit can imbibe their appreciation at one of hundreds of watering holes around the Palm Beaches, including Delray Beach's Dada and Blackbird Modern Asian in Jupiter. Each award-winning dining establishments serve traditional vodka-infused libations and some that border on the eccentric.
At Dada, tuck into a trio of mojitos ($12 each) that form a tasteful love triangle with herbs and fresh citrus. The blueberry iteration mixes Pinnacle blueberry vodka and blueberries, while the strawberry basil features Skyy wild strawberry vodka, muddled strawberries, and basil leaves plucked from the outdoor garden. For a spicy kick, the "Gingers Have More Fun'' goes big with Skyy vodka, a splash of ginger beer, and sliced ginger. Or try one of the refreshing potions ($13 each) designed in homage to illustrious Dada artists and their surrealist artwork.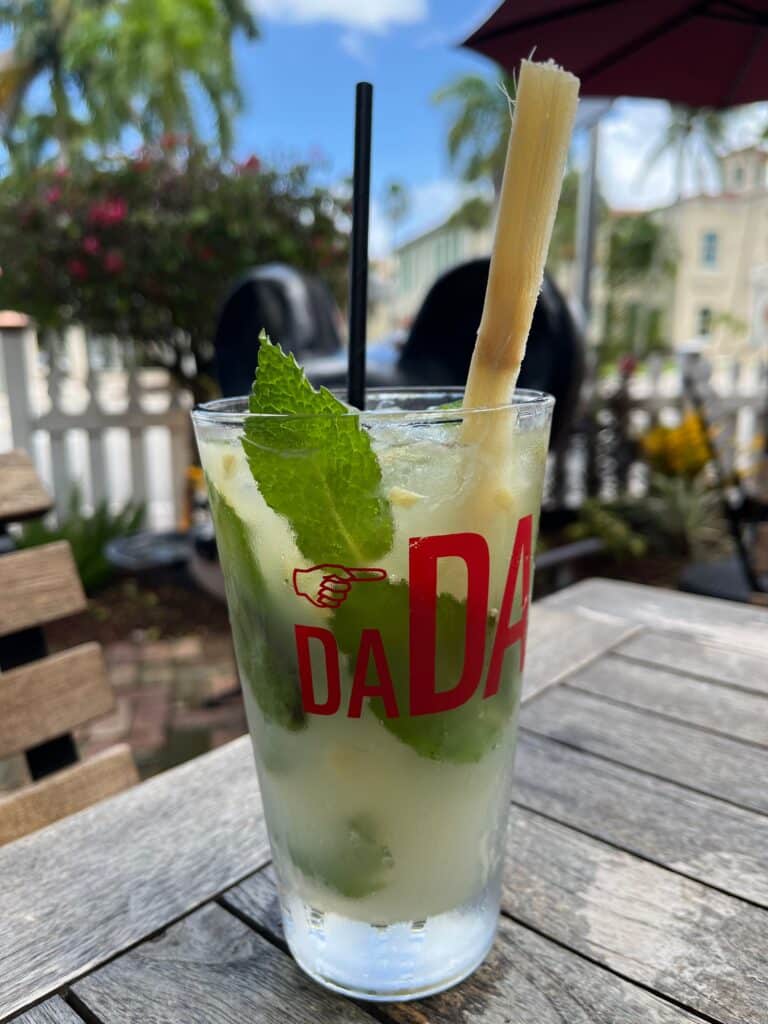 Gingers Have More Fun (Dada)
The Hans Arp-inspired "Leaves and Navels'' riffs on the traditional gimlet with green tea-infused NEFT vodka, kumquat syrup, yuzu, lemon, and tamari served in a Japanese teacup with an umbrella garnish. Similarly, "The Chinese Nightingale,'' named after the Max Ernst drawing of the same name, is presented in a coconut milk can and honors the painter with a luscious fusion of Skyy vodka, J.F. Haden's lychee liqueur, coconut milk, lychee, and lime. Like its namesake, the "Salvador Dali'' is a complex yet piquant refreshment whose contrasting ingredients include Tito's Handmade vodka, St-Germain, crisp cucumber, and juicy citrus. 
Located at the county's northern end, Blackbird Modern Asian offers a quartet of elixirs with balanced flavor profiles and presentations, such as Confucius Says ($16), an exotic combination of Suntory Haku vodka, Soho lychee liqueur, Liquid Alchemist coconut syrup, pineapple and lime juices, and lychee fruit poured into a Fu Manchu tiki mug. Dubbed the "Pho King Good'' ($16), is a mix of Tito's Handmade vodka, KeKe Key lime liqueur, pho syrup, egg white, thai basil, lemon, and pineapple, whereas the "Crazy Rich Asian'' ($16) honors its Eastern roots with Suntory Haku vodka, lemongrass, apple-cucumber, kiwi, and lime.
Finally, the restaurant's eponymous cocktail, The Blackbird ($15) mixes Skyy vodka, Amaro Lucano, chai tea, cold brew coffee, and vanilla cream and is garnished with avian-shaped, activated charcoal and a chocolate-drizzled fortune cookie.
#vodka #daddelraybeach #blackbirdasian #titosvodka #skyyvodka #cocktails #palmbeachcounty #nationalvodkaday #spikeongolfandtravel #restaurants
Feature Photo: Confucius Says (Blackbird Modern Asian)