Tiger Woods and Nicklaus Design each will soon have golf courses at the new Jack's Bay project on the island of Eleiuthera in the Bahamas. Nicklaus Design has commenced construction on an 18-hole layout, a 1,200-acre, high-end resort community that features four miles of magnificent white sand beaches on the Atlantic coastline.
Woods and his TGR Design team completed will build "The Playground," a 10-hole short course with holes ranging from 71 yards to 163 yards, in March 2020. Completion of the Nicklaus Heritage championship course is scheduled for 2025, making Jack's Bay the first property in the world to feature an 18-hole golf course by Nicklaus Design coupled with a Tiger Woods and TGR Design.
Jack's Bay will be the first Nicklaus Heritage course in the world and nclude are Nicklaus real estate branding rights as a Nicklaus Community.
This new Nicklaus Heritage brand of original golf course designs will showcase the senior designers from Nicklaus Design who have been personally trained by Jack Nicklaus over several decades.
"The principals of Jack's Bay Resort Development Limited have a remarkable vision to make their community the destination of choice for the most discerning golfer in The Bahamas and throughout the Caribbean," said Howard Milstein, Executive Chairman of the Nicklaus Companies "With the history of the island, stunning ocean views for golf and real estate, and access to world-class fishing and other amenities, Jack's Bay rivals any destination in The Bahamas."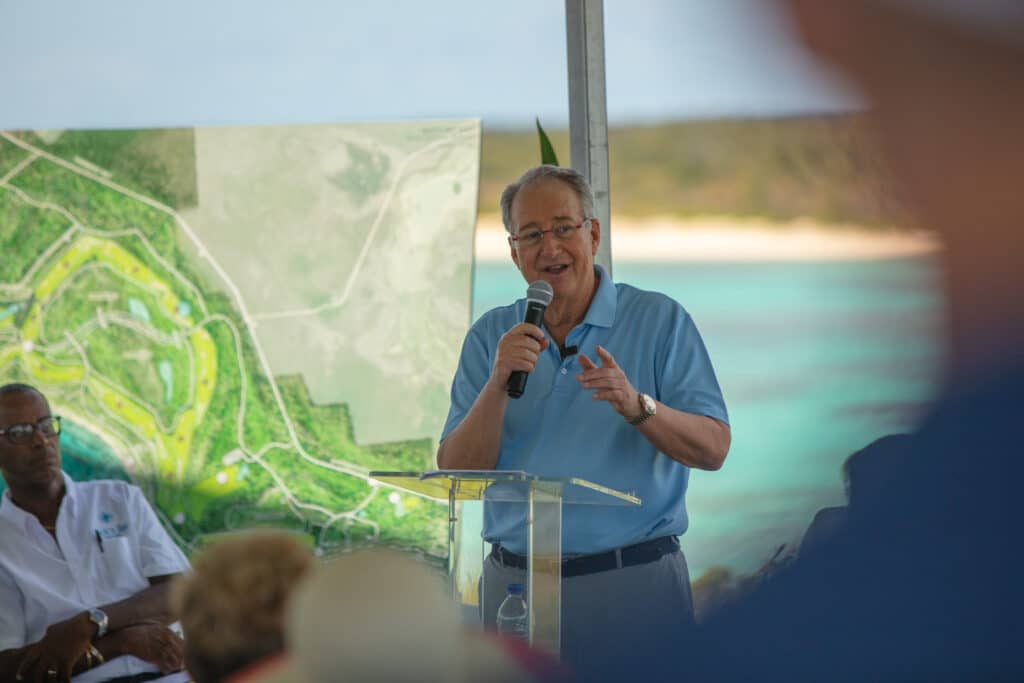 The Jack's Bay golf course design team will be led by Chad Goetz, Senior Design Associate at Nicklaus Design, who will be on-site to oversee all aspects of the design process.
"It's going to be spectacular," Goetz said. "A number of holes stretch directly along on the ocean and even the land off the ocean has remarkable topography, featuring a rolling terrain of elevation changes, lakes, deep water "blue holes" to the ocean, and caves. What Mother Nature has provided us is rare and we plan to preserve the natural integrity and enhance the beauty of the isla
Exclusive real estate offerings at Jack's Bay will soon be available through its Founder'sProgram and will include a total of 24 Beachfront and Ocean View homesites ranging in price from $1 million to $3 million. Founder's Row is ideally located along the prime stretch of oceanfront land nestled between the amenities of the Atlantic Club clubhouse and the Tiger Woods golf course.
Other amenities planned for Jacks' Bay include a world-class beach club, a spa village, a comprehensive fitness and wellness program, and family friendly Sports Pavilion complex. Among the amenities already in place are endless stretches of pristine white sand beaches, tennis, a marina and numerous dining venues.
Photo Credits: Jack's Bay
#jacksbay #tigerwoods #jacknicklaus #nicjlausdesign #bahamas #TGRdesign #luxuryresorts #eleuthera #golfcourses #golf #spikeongolfandtravel