Kelly Miller, in addition to being one of golf's class acts, is a straight shooter, even when it comes to poking fun at himself. Miller is president of the Pine Needles Club, which comprises Pine Needles Lodge & Club; Southern Pines Golf Course; and Mid Pines Inn & Golf Club. Each property holds a classic Donald Ross design from the master's early days in Southern Pines, N.C.
But Miller admits he barely knew anything about Ross when he arrived in the Sandhills more than 40 years ago.
"I knew Ross was an old architect. Donald Ross… Betsy Ross… Back then nobody really cared. It's now in vogue.''
Now, the son-in-law of the late, legendary Peggy Kirk Bell and her husband, Warren Bell, whose family is synonymous with Pinehurst/Southern Pines history, Miller cherishes the responsibility of preserving and growing the legacies of the Pine Needles Club courses. He founded the Pine Needles Club, which consists of 400 members, including 125 local members, in 2010.
"If you have a Donald Ross course, you have a treasure,'' said Miller, who acquired Southern Pines from the Elks Club in 2020 after more than two decades of attempts.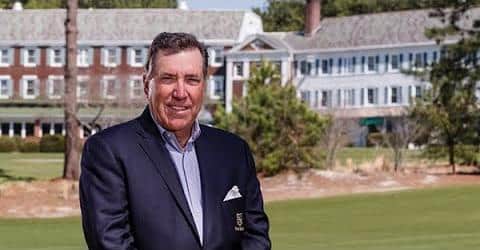 Kelly Miller (Pine Needles Club)
Southern Pines, which was founded in 1906, is considered Ross' first course in the Sandhills. Ross played out Southern Pines in 1910.
"I guess the perseverance finally paid off,'' said Miller as he sat inside the Southern Pines clubhouse.
Despite that perseverance, the timing couldn't have been worse. Miller signed the ownership papers to Southern Pines on March 20, 2020, the same time the state – and the country – shut down due to the Covid pandemic.
"I thought, 'This is going to be really good or really bad,''' Miller said.
It turned out, of course, to be really good, thanks to three main factors: Miller's business acumen; the post-pandemic golf boom; and architect Kyle Franz's genius for renovating and restoring Ross designs. In late December 2020, Franz, who had supervised restorations at Mid Pines (2013) and Pine Needles (2018.) began restoration on Southern Pines, with tree removal and bunker work, before moving on to work on the greens, cart paths, and other areas of the course to restore Ross' original design.
Southern Pines reopened for play in September 2021.
"Kyle Franz did an amazing job,'' Miller said. "It was like a canopy here before. We removed 700-plus trees just to get light on the course. We moved the green on the 11th hole, but other than that, everything was just here. This is a remarkable golf course on a remarkable piece of land. I think this is the best piece of land in Moore County. Ross must have been mesmerized when he saw all the sand and topography.''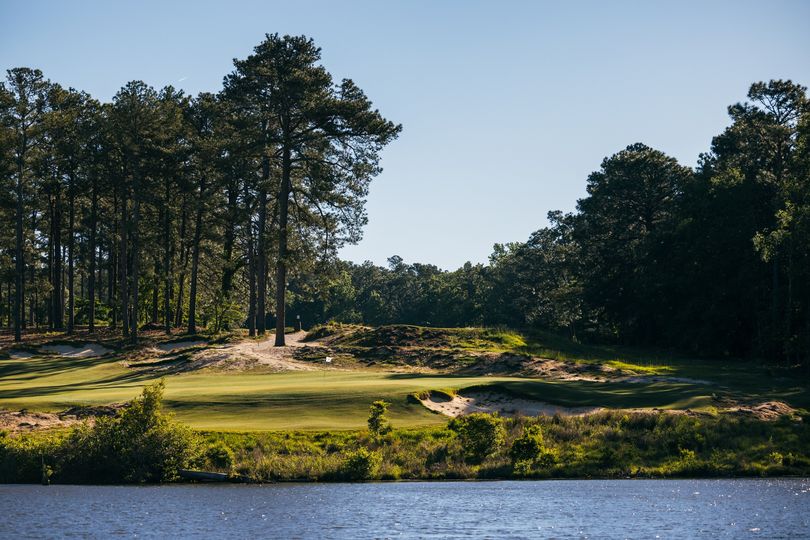 Southern Pines (Southern Pines Golf Course)
Indeed, there is plenty of sand, rugged terrain changes and other Rossian trademarks to make Southern Pines (6,695 yards, par 71) the more challenging of the three courses within the Pine Needles Club family.
Pine Needles (7,035, par 71), which opened in 1927, is the best-known of the trio, thanks in large part to being the only course in the U.S. to hold four U.S. Women's Opens, the most recent being in 2022. For the uninitiated in the nuances of Ross designs, Pine Needles is more aesthetically pleasing than his beloved No. 2 Course at Pinehurst Resort, and within a pine needle or two of being equally as great.
Meanwhile, Mid Pines (6,732, par 72), with its wide, sweeping fairways, is sneaky good and sneaky challenging, particularly off the tee, where if you hit your ball to the wrong side of the fairway, getting to the green becomes even more difficult. Ross built Mid Pines in 1921. Furure World Golf Hall of Faner Julius Boros, in 1953, was an investor in the Bells' purchase of Pine Needles. Boros' nephew Jim, would later be head professional at Mid Pines. "Mrs. Bell," as she is still known in the Sandhills, was elected to the World Golf Hall of Fame in 2019, three years after her death.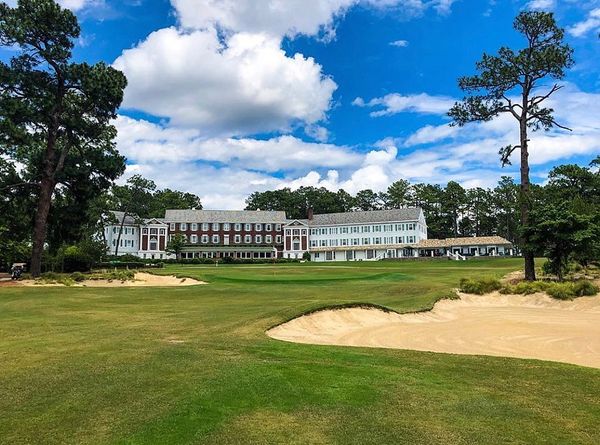 Mid Pines Inn & Golf Club (Mid Pines Inn & Golf Club)
To be sure, the history of Pine Needles, Mid Pines and Southern Pines reads like a "Who's Who'' in the history of Sandhills golf. But each of those personalities lead you back to one common denominator: The golf courses.
"Each (course) is unique,'' Miller said. "What Kyle did at Mid Pines was transformational. He didn't want to do the same thing at Pine Needles. Southern Pines was Ross in his early years. There were were tiny, sand greens. All the flair happened on the outside. That's why you see all the flash bunkering.''
The best way to experience the three Ross courses at Pine Needles Club is to stay at either Mid Pines Inn, which features Georgian-style guest rooms and private villas; or the Pine Needles Lodge, a chalet-style property with 74 rooms just off the first tee of the Pine Needles course. An array of stay and play packages are available for all sized groups and outings. Members of the Pine Needles Club receive special rates.
"I started working out of college (at the University of Alabama) for Mr. and Mrs. Bell,'' Miller said. "They always made me feel at home. That's how we want our guests to feel. Relax and enjoy the Southern hospitality.''
#southernpinegolfcourse #pineneedlesclub #pineneedles #midpines #donaldross #peggykirkbell #juliusboros #pinehursstNo2 #golf #sandhills #golfhistory #kellymiller